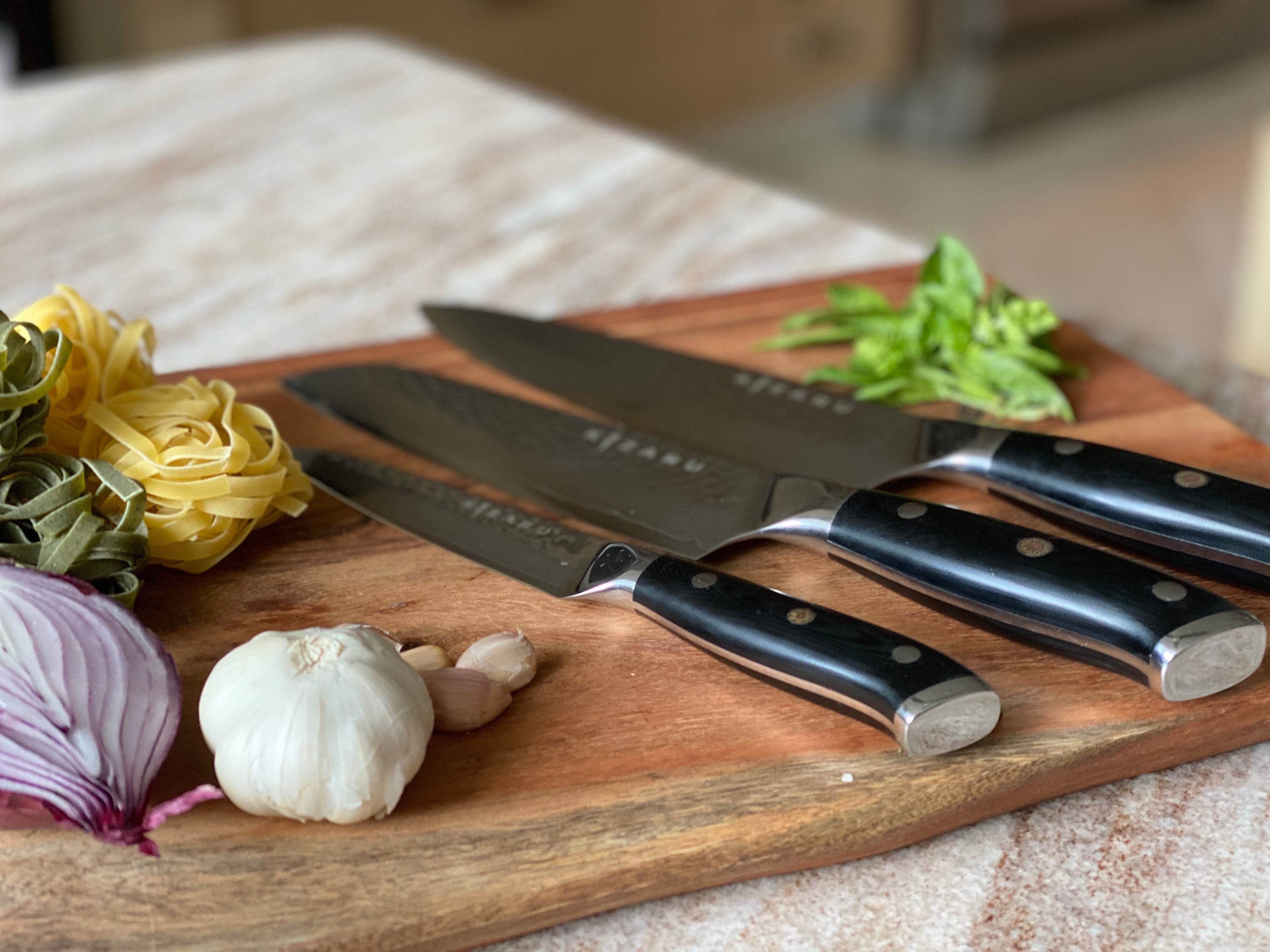 What Kitchen Knives To Buy | 3 Tips From A Master Chef
If you've ever cooked, you know how life-changing a good set of knives can be. While bad knives lead to unnecessary pain and effort, a good knife set can make the cooking experience so much more enjoyable.
That's why in this article we'll cover what you should be looking for when shopping for knives—and what you should avoid.
Tip #1: The Chef Knife Is King
When shopping for knives, most people make the mistake of valuing quantity over quality. And it's understandable—there's nothing wrong with wanting a beautiful set of 8+ knives that looks great on the kitchen. Who doesn't want that?
But if you're on a budget, it's crucial that you don't splurge on the extra knives (which aren't even necessary) and, instead, focus on getting what matters most—a good chef knife.
Contrary to popular belief, a chef knife can perform 85% of all the cutting tasks you can encounter in a kitchen. That's the less marketable truth because businesses want you to spend more, but it's also a fact that will steer you from misplacing your budget on the extra pieces.
With that said, that doesn't mean you should never buy a full set—if you have the budget, by all means, go all out. But if you don't, just keep in mind that the chef knife is king.
Tip #2: The Right Blade Material
High-quality knives usually come in 3 different steels:
High-carbon steel
Stainless steel
A combination of both
When it comes to picking the right one for you, it's all about knowing the pros and cons of each.
While high-carbon steel holds a sharper edge, it is less durable and rusts more easily, so it's more difficult to maintain. On the other hand, stainless steel is stronger and easier to take care of, but isn't as sharp.
The recommendation for most homeowners is to go for a composite of both. This way you'll get the perfect balance between sharpness, ease of care and durability. 
However, if you trust your ability to consistently sharpen your knives, or religiously wash and dry them after use, then feel free to choose the material that's best for you.
Tip #3: Weight and Balance Matter
It would be incorrect to say that there's a "one size fits all" model for knives—how a knife feels in your hand, especially for extended periods of time matters a lot. 
Coming from someone who has chopped veggies for 3 hours straight with a bad knife, I can attest to the pain that comes from disregarding weight and balance—it's no fun. 
This is why it's so important to pick a knife that won't strain your wrist or exhaust your hand. You want to handle a knife that's easy to control and doesn't make you feel sore after use.
While this choice is personal, it's better to play it safe if you're starting out.
Our recommendation is to pick a well-balanced knife—one that's not too balanced toward the handle or the tip, but instead lies closer to the bolster where you hold your knife. This will make the handling easier on your wrist and the knife more comfortable to hold.
Takeaway: What kitchen knives to buy
There's no denying that there are multiple options in the market that adhere to the recommendations mentioned here—a set that includes (1) a quality chef knife, (2) a blade made of high-carbon/stainless steel composite, and (2) a well-balanced feel.
Nevertheless, the one we recommend is the Kanji Professional Damascus Knife Set.
While we may be biased, these knives were designed with all these concepts in mind. They mix the best properties a highly functional knife set must have, while leaving a lasting impression on anyone that sees it due to their beautiful Damascus pattern.
If you're looking for your first set of luxury knives, you can get them here.
With that said, what's most important is that you keep all these tips in mind when shopping for knives. Whatever knives you get, if you follow these parameters, you'll come out with a knife set you feel happy and comfortable with!